---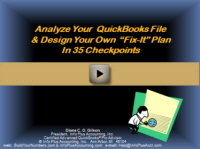 Learn how to analyze your QuickBooks file & begin to design your own 'fix-it' plan in less than an hour!
With 30+ years' accounting experience working with clients, Certified Advanced QuickBooks & Enterprise ProAdvisor Diane Gilson has developed a system to help you examine the health of your QuickBooks data file.
If you suspect that something isn't quite right with your QuickBooks accounting system don't neglect your suspicions!  Continuing to pour energy into a poorly-designed structure, or piling new data on top of other bad data simply breeds bigger, "meaner" problems.  Find out what's wrong so you can fix it!
---
Analyze Your QuickBooks File
& Design Your Own "Fix-It" Plan using 35 Checkpoints
Approximately 58 minutes:
Introduction to the 35-Point Checklist
Has your file lost its integrity?
What you can learn from the Product Information screen
File preferences – 4 checkpoints
Balance sheet – 5 checkpoints
Income statement – 4 checkpoints
Job cost – 1 checkpoint
Chart of accounts – 2 checkpoints
Item list – 4 checkpoints
Estimates – 1 checkpoint
Budgets – 1 checkpoint
Customer: Job list – 3 checkpoints
Payroll items – 1 checkpoint
Other assessments or feedback – 4 checkpoints
Recommendations – creating your plan
… OR …
Get THIS class PLUS
80 More Online Classes for only $197
Covering topics like:
Job-Costing, Construction Accounting, and Profit-Building

---