You can immediately access more than 60 QuickBooks desktop job-cost training workshops available online from BuildYourNumbers.com!
Subscribe and get all 'Primary' classes (shown below) + Bonuses + Other Benefits!
OR simply purchase individual classes (see links below)
You can watch classes in the order desired (i.e., learn by "Level" OR  learn by "Topic")
---
Training Classes for QuickBooks

Online job-cost and management accounting workshops
If you're struggling to understand what's REALLY happening with your finances then you need to discover how to take the guesswork out of running your business.
Business Owners: 
You can make smarter decisions with current and accurate financial information
Bookkeepers: 
Learn the right way to do the accounting and job cost tracking for your company
Accounting Supervisors: 
You'll now have professional help available with the click of a button
Professional Consultants: 
Acquire more 'value-add' knowledge and tools to use as you work with your clients
Day or night, from the convenience of your home or office, you can learn how to turn your accounting system into a powerhouse of critical management information. Diane Gilson shares years of job-cost and QuickBooks experience, training, and business coaching insights.
Discover how to get the numbers, and create the reports, that can make a REAL difference in your financial results!
With our expansive library of in-depth, on-demand, online Quick Books and financial accounting training classes you can immediately start to take control of your business.
Here's how to get started… 
---
Option 1: Get immediate access to ALL of our current and future online training with a monthly subscription
Your subscription provides:
Instant access to all of our individual 'for sale' online workshops listed below (>60 classes and >60 hours of training).
All handouts used in each workshop.  Handouts include outlines, diagrams, procedures, tips & techniques, screenshots, etc.  Download, take notes, and use them for future reference…
Additional support tools including our sample Chart of Accounts, the 'Profit Prophet' Analyzer, the Equipment Usage Cost Calculator, and a QuickBooks Home & Family File Template.
All future workshops (we periodically add new recordings to your subscriber library)
Instructor access:  Do you sometimes stay a few minutes after a seminar to ask the instructor a couple of extra questions?  Simply set a time each month to get those questions answered, or to personally speak with Diane about an issue specific to your company.
Bonus!  You'll also receive immediate access to more than 25 additional QuickBooks not-for-sale workshops & 'Showcase' sessions available ONLY to subscribers.
Yes!  I want to learn more about how I can access ALL of these training classes, benefits, and bonuses…
---
Option 2: Purchase workshops separately
If you choose to purchase individual workshops, you'll have lifetime access to the classes and handouts that you acquire. Choose from more than 60 reasonably-priced individual QuickBooks online training classes that you can use to jump-start, upgrade, or master your job-cost accounting system.
You may wish to browse through available classes either based on your experience and overall company objective (by "Level") OR you might more of a "Topic person" .  If so, you can see the classes listed in a 'subject-matter' format.  See below…
Learn by 

 "Level"

 – Based on Your Experience & Needs
Levels indicate experience, needs, and/or level of responsibility. For example, if you really want to get a basic job-cost system in place as quickly as possible, you could start with the Basic Accounting & Job Costing (Level 1) seminars.
When you are ready to move into more advanced accounting topics, wish to use the more sophisticated QuickBooks features, or you're responsible for accurate management reports, you will want to take advantage of  the Advanced Accounting & Job-Costing (Level 2) workshops.
Level 3 workshops are useful for everyone, but are of special interest to business owners and managers as they focus primarily on higher-level business, financial management, and profit-building concepts.
…OR…
Absorb QuickBooks Accounting & Job-Cost Training Topic-by-Topic 
We have also listed the training topics in sequence.  Within each topic, you could choose to progress from the more basic classes to the advanced classes (i.e., from Level 1 to Level 2 classes).  You can therefore 'follow-the-class-numbers' through a logical progression designed to help you build your expertise within each subject area using a building-block approach.
Note: If there's a special topic that you want to view immediately, you can go straight to that specific workshop. If you find that the class refers to underlying elements that you have bypassed, you may need to go back and fill in the missing classes. We don't encourage skipping ahead as a regular practice because the seminars are designed to build upon each other …
---
Primary Classes (Levels 1,2, and 3) – by Topic and Sequential Order 
Overview of topics:  
Jump to subject areas by clicking the numbered links below (class titles listed under each topic then take you to detailed info about each QuickBooks tutorial).
How to make a change in your management accounting information…

 (↑)
Critical accounting and job-cost decisions…

 (↑)
Critical computer system decisions… 

(↑)
Securing your data & making the right technical ('Preference') choices…

 (↑)
How accounting systems & reports work in successful businesses… 

(↑)
Customizing QuickBooks forms to meet your specific business needs…

 (↑)

Your Chart of Accounts: The essential foundation…

 (↑)
Designing your detailed job-costing elements…

 (↑)
Easier, Faster, Better: How to be more efficient and effective in QuickBooks…

 (↑)
Using Estimates & Purchase Orders to manage & increase your bottom line…

 (↑)
Entering and controlling costs…

 (↑)
Entering and adjusting income…

 (↑)
Preparing job-cost & company reports for management…

 (↑)
Accuracy counts – Proofing, fixing & finalizing your work… 

(↑)
---
Continuing Education credits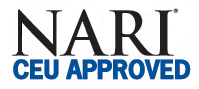 NARI (the National Association of the Remodeling Industry) has approved our presentation-content classes for their Continuing Education Units. Credits are granted as .1 unit per 50-minutes of presentation time. Qualifying sessions include all financial management, accounting, and marketing seminars; it does not include coaching, showcase or networking sessions.
For More Specifics…
About the development of these workshops: please visit the About page
About the CAMP subscription program: please visit the CAMP Frequently Asked Questions page
If you've reviewed the FAQs and still have additional questions, or if you would like to call or e-mail us directly: please visit the Contact page.

2-Month, Risk-Free, Money-Back Guarantee