---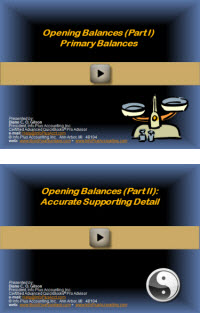 …
This 2-part workshop has been thoughtfully prepared and recorded – and you can access it immediately. Upon purchase, you'll receive a link to download a pdf document that gives you immediate access to both online recordings and related handouts.
…
---
Opening Balances:  Getting Started with the Right Numbers
Primary & Detailed Opening Balances
Approximately 22 min for Part I, 85 min for Part II (107 minutes total).
Part I:
Opening balances prep checklist
Before you start

Starting date and historical information needs
Detail from prior system
Temporary accounts

What you'll do:

Balance sheet opening entries
Profit & Loss opening entries
Checking results
Part II:
Review of prep steps
Primary balances:

In-depth example:  Entry of primary Balance Sheet account balances
In-depth example:  Entry of primary Profit & Loss account balances

Detail entries and actions for Balance Sheet balances

Outstanding checks and deposits
Prior-period reconciliations for bank accounts
Accounts receivable detail and aging
Employee advances
Accounts payable detail and aging
Prior-period reconciliations for credit cards

1099 Year-to-date entries
Job income detail entries
Job cost detail entries
Exhibit:  Primary balances entered before detail entry
… OR …
Get THIS class PLUS
80 More Online Classes for only $197
Covering topics like:
Job-Costing, Construction Accounting, and Profit-Building

---