---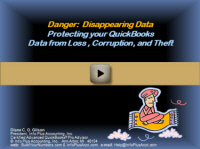 How much of your critical financial information can you afford to lose?  If the answer is "little or none," then it's time to learn the safeguards you need to put in place to help protect your QuickBooks data from loss, corruption, and theft.  Make sure that YOU are doing everything in your power to avoid the kind of inconvenience, trauma, and recovery cost that can accompany these unfortunate (and normally avoidable) events!
In this workshop, Diane shares specific insights to help protect your QuickBooks data. For instance, you'll discover ways that you may be at risk of sabotaging your own data – and what to do to help prevent that misadventure. You'll also learn about various backup options, determine which type is best for your company, and how (and how frequently) backups should be performed and tested.
---
Danger:  Disappearing Data
Protecting your QuickBooks Data from Loss, Corruption, and Theft
Approximately 18 minutes:
Magnetic attractions
Can you use wireless connections with QuickBooks?
Data file sizes and corruption
Data loss observations
Backups: where & how?
Portables vs. backups
Backups: when?
Backups: who?
… OR …
Get THIS class PLUS
80 More Online Classes for only $197
Covering topics like:
Job-Costing, Construction Accounting, and Profit-Building

---