---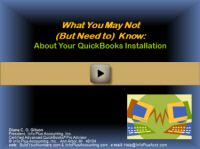 Even though most of us would prefer to spend our time using software, the fact is that your choices about your QuickBooks computer system layouts are important.  Why?  Because your desktop software and files "live" in computer hardware – and information exchange – landscape.
Where are your QuickBooks or Enterprise company files housed?
Who can access them – and from where?
How many software licenses do you need?
How do updates work?
Which parts of the systems environment can you choose or modify to more efficiently meet your needs?
Which segments are established by Intuit (or constrained by your current computer system)?
Diane answers these questions + illustrates some of the most popular QuickBooks computer system layouts, including hardware, software, and file access choices and configurations.  The goal is to help you understand and think creatively about your QuickBooks computer system layouts so you can most effectively access your data.
… OR …
Get THIS class PLUS
80 More Online Classes for only $197
Covering topics like:
Job-Costing, Construction Accounting, and Profit-Building

---
What You May Not (But Need to) Know
About Your QuickBooks Installation
Approximately 27 minutes:
Which version will you install?
Making sure your current computer systems are up to the task
Where will your software and company file "live"?
Pros, cons, diagrams, and discussion re:

Single computer environment
In-house server environment
Hosted ('rented') server environment
Offsite access to in-house computers

What you should know about the EULA (End User Licensing Agreement)
Registration and support plan info
How release updates impact the functionality
Version updates, frequency, and 'downgrading' to lower versions