This video workshop is focused on the complex invoicing scenarios that arise with construction accounting in Quickbooks.
---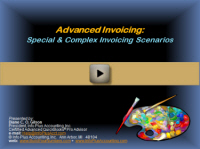 …
This workshop has been thoughtfully prepared and recorded – and you can access it immediately. Upon purchase, you'll receive a link to download a pdf document that gives you immediate access to both the online recording and handouts. ..
…
---
…
… OR …
Get THIS class PLUS
80 More Online Classes for only $197
Covering topics like:
Job-Costing, Construction Accounting, and Profit-Building

---
Preview of Construction Accounting: Advanced Invoicing
Sneak a peek at this nearly hour-long tutorial on advanced invoicing in QuickBooks.

After the video starts, click the 'box' icon
at the bottom right-hand corner of the video (to the right of the speaker icon).
Video Transcript at Bottom of Page
---
Advanced Invoicing: Special & Complex Invoicing Scenarios (2525/Level 2)
Approximately 53 minutes:
Highlights From Advanced Invoicing
Info that you need to know about each job before you Invoice


…..

Content and layout options

Single line Items
Multi-line Items
Headers
Subtotals
Discounts
Using Groups
Adding Time and Costs
'Billable' status levels
Positioning Time/Costs on the Invoice
Placing time and costs from several jobs on one Invoice

Should you create an Invoice from an Estimate or Sales Order?

When it's a good idea
How to do it
---
Advanced Invoicing: Special & Complex Invoicing Scenarios (2525/Level 2)
Diane Gilson: Hello, and welcome to today's webinar 'Advanced Invoicing: Special and Complex Invoicing Scenarios'.
One of the most fun things I get to do as I put these things together, is to come up with some picture that kind of goes along with the theme of what we're working on.  So today we have a pallet down there with all sorts of good colors and paintbrushes. So, that takes us into 'Accounting Artistry with Invoices'.  You know a lot of people think accounting can be a little dull but in fact, there are so many systems and so many different things we can do, it's almost like this great systems game that we get to play on an ongoing basis so I hope that I can infuse people here with that same sense of enthusiasm towards working in this software that's got so many different features.
So, with our invoices, really what we're doing is asking people for money and we're just going to try and come up with some creative ways to go ahead and ask for the money.
We'll talk about the lay of the land and some background information you need to know before you can be really effective at invoicing.
Choices, choices, choices!  We're going to move from the simple up to the more complex, and of course, it was kind of fun to say that from the simple to the sublime.
Maximizing 'group think'. Now, this isn't quite what it might appear to be, we're going to actually talk about neat ways that you can use groups in your invoices.
Time, cost, and billables, how can we use that information – that is available to us in the system – to help us get better invoicing, and
Converting the plans, our estimates, our sales orders, etc., into cash – via that one stop along the way of an invoice.
So let's go ahead and get into our PDF presentation. Of course, these hand-outs are on the site to accompany this class.  So [let's start with] 'Scouting out the Lay of the Land'.  Now what I'm talking about here is what's happening right inside your company and what type of job is going on.  So whatever you can do to learn more about the jobs that are being worked on…  Of course, in any given company, we find that there sometimes can be quite a variety – that most companies are not doing the same thing over and over again.  Every job has a few unique angles. So first of all, the kinds of things you want to ask are:
What's the nature of the job?
How long is it going to last?  Because that can have a big impact as you move through the life of the job if it's a long-term job. We're going to, in the future, going to be talking about income recognition issues, but knowing how long it's intended to last is a good measuring stick or a place to jump off from on the invoicing side.
Is it a fixed price job or a time and materials job or some combination of the two?  Lots of times, jobs start out as fixed-price jobs but then allowances come into the picture (we've had a session on handling allowances).  Sometimes change orders come into the picture, or it might be a straight time and materials job where everything comes through at us invoiced line by line.
Is there an estimate that needs to get entered into QuickBooks?  If you've got an outside estimating package, do we need to get that estimate inside QuickBooks so that we can convert that and go through the process of getting it into an invoice?
What are the provisions of the contract?  If you're going to be the person involved in getting those invoices out, you need to know what are the key points where the invoicing needs to be done – and what are the payment terms?  So, when to invoice?  You know, there are a lot of different points in time that we can create invoices in the system.  And the first one I'd like to talk about is this.


…..


I have run into clients in the past that they're just so happy that they got the $250,000 contract, so they go out, and they want to put it on the books so that they don't forget that it's out there. Of course, I would imagine that if you had contracts of that size, it would be relatively hard to forget that they were there.  The problem that happens is that when you're invoicing right upfront, you're recognizing income in the system that should not be recognized. Now, if you go through and do some special adjustments you can always back that out, but typically we don't want to see that full contract go in on the front end when that contract is signed.  You can get some pretty strange-looking numbers when you start recognizing income with no related expenses.
Will there be a deposit? And how is the deposit going to be handled?  There are 3 standard ways of handling customer deposits, and of course, I have my favorites.  But everyone has their own way of thinking about it, and ways that they prefer to do things.  So if you're going to have a deposit, how are we going to be handling it?…