---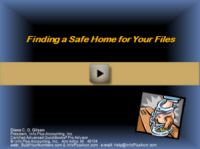 It's truly important to control your QuickBooks data files.  To create a picture: you should treat your QuickBooks company files like your children:  you'll want to know exactly where they are – at all times, who they're "keeping company with", and "what they're up to".
In this workshop you'll learn how to:
Assign useful file names.
Create a clean home base so that you can always locate your files.
Quickly determine exactly where they're hanging out (if you're not totally sure).
Interpret file extensions and relationships.
Diane will also present other easy ways to control your QuickBooks data files. For example, she'll share professional insights regarding how to keep your file safe when it's 'away from home', how to problem-solve when your file 'goes rogue', and what to do when you receive the disturbing 'data has lost integrity' message. Finally, you will learn when (and when not) to use an Accountant's Copy.
---
Finding & Maintaining a Safe Home for Your QuickBooks Files
Approximately 43 minutes:
Location and access to company data files

Keeping track of your 'children'
Establishing a good location
Naming your files
Avoiding names that can corrupt
Tracking the path to existing files
Tracking file usage dates and related details

What are all of those extra files?  And what do the file extensions mean?
Precautions to take if your file is "away from home"
Danger!  Don't create "rogue files" – they can create costly disruption …
What to check for, and what to do, if you find duplicate files
Where your file should reside when it's time to create 'rebuilds'
When (and when not) to create an Accountant's Copy
What you can (and cannot) do while an Accountant's Copy exists.
… OR …
Get THIS class PLUS
80 More Online Classes for only $197
Covering topics like:
Job-Costing, Construction Accounting, and Profit-Building

---