This video from BuildYourNumbers.com provides a virtual 'basket-full' of insider tips for QuickBooks users!  These basic through advanced insights will make you a smarter and faster QuickBooks user in no time!
---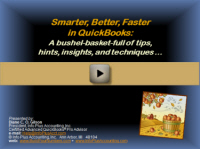 …
This workshop has been thoughtfully prepared and recorded – and you can access it immediately. Upon purchase, you'll receive a link to download a pdf document that gives you immediate access to both the online recording and handouts. ….
..
---
… OR …
Get THIS class PLUS
80 More Online Classes for only $197
Covering topics like:
Job-Costing, Construction Accounting, and Profit-Building

---
Preview of the "Smarter, Better, Faster in QuickBooks" Video
Watch this preview to see if this video on using QuickBooks more effectively is for you!
After the video starts, click the 'box' icon at the bottom right-hand corner of the video (to the right of the speaker icon).
Video Transcript is at Bottom of Page
---
Tips, Hints, Insights, and Techniques for QuickBooks (2000/Level1)
Approximately 111 minutes:
Highlights From the Video
Faster company startups
Open a second company file
Monitoring file sizes
'Protecting' accounting time
Home screen navigation
Menu navigation
Icon bar assistance
Pop-ups – how they can help or hinder
Exploring
Modifying the size of your QuickBooks fonts on your screen
Using the Open Windows List
One vs Multiple windows?
Window layouts
Customer & Vendor transactions and history panes
Column widths in transactions
Customizing columns in Lists
Sorting columns
Using color in QuickBooks to avoid errors
Dropdowns and auto-matching
'Clipped text' dropdowns
Using unique names
The auto-recall feature
Printing screens
View of Lists vs. Sorting Lists
The problem with your mouse
Keyboard shortcuts
Moving through registers, lists, and reports as quickly as possible
Quickly finding elements in lists
Faster ways to enter transactions
Finding transactions – now
Simple vs. Advanced 'Find' feature
Appendix:  Comprehensive QuickBooks Shortcut Lists (2)
Appendix:  Comprehensive Windows Shortcut List
---
Tips, Hints, Insights, and Techniques for QuickBooks (2000/Level1)
Diane Gilson: Hi, this is Diane Gilson. Welcome to today's session on 'Smarter, Better, Faster in QuickBooks'.
We all want to be smarter, better, and faster but especially, if you're in this course, it's in QuickBooks that you're looking to add those qualities to what you are doing on a day-to-day basis. And we have today a bushel-basket-full of tips, hints, insights, and techniques, so we're going to just bombard you with a whole lot of things that you can do to make your life in QuickBooks smarter, better, and faster!
So, our theme today is 'Sharing in the harvest'.  Of course 'the harvest' is all the many years that I have spent working in QuickBooks and finding faster, better ways to get around.  Of course, I haven't done all that on my own.  I've learned it from everyone: all sorts of conferences, other pro-advisers, online access, and working with my clients, so I'm going to try to share a lot of these things with you.
So some of the tricks of the trade:  We are going to start out, briefly, talking about your files and your focus.  Those are just some general oversights before we jump into a lot of the more detailed pieces.
We're going to talk about navigating with ease.
What you see, some of the different ways you can view information.
And faster, easier data entry.
So let's jump into the hand-outs, that's a good place to start.  And let's start with the file and focus. So first of all, one of the things that you can do in QuickBooks now – effective in 2011 versions and above – is there's a preference to keep your QuickBooks running in the background for faster start-ups. So in order to get that to work, you're going to go into your QuickBooks file, and into your preferences (Edit/Preferences), and you're going to go to the general tab right here, and click on 'keep QuickBooks running for quick start-ups'.  That would be right here.  You just click that on, and then say 'OK', and that's going to keep that running in the background. Now you want to remember that this is going to be running RAM in the background. If you've got memory issues… this might not be the thing to do if you've got RAM memory issues on your computer.  But if you don't, this is a really great way to make it so that, as you're in and out of your QuickBooks files throughout the day, if you close it and then come back and open it, it will really reduce the start-up time.
So the next thing is, there's the option to open a second company file. Now, this is limited. It's only available in the QuickBooks Accountant's Edition or in Enterprise.   So if you're in Enterprise you'll see up here, at the very top where it says "open a second company," and if we wanted to do that it would actually pull up another QuickBooks session and you could open up a second company at the same time. So this is really great if you want to copy and paste things between different companies or you need to look at two different files at the same time to see what's going on – so that was a real nice advancement.
Now we've had a lot of classes prior to this and we're going to be having more classes after this.  So some of the things we're going to cover today may be things that you already know – but hopefully, you're going to get ideas for a lot of other new things – so there may be a little bit of repeat as we go through.  But at least we've got all of these ideas gathered in one place, so if you find that there's one thing that you already know, great, just move on to the next thing and hopefully, you'll come up with at least a dozen or more great ideas to help you get around in the system more quickly.
So the next thing we want to talk about is keeping an eye on your [QuickBooks] file size because larger files do take longer to run, and files that are bigger than 60 megabytes in [QuickBooks] Pro and Premier will ultimately begin to slow down as you start running reports. Now if it doesn't do that for you, that's absolutely wonderful, but don't be surprised if you see that happening.  So I'm going to just go up right now and I'm going to check.  We're going to look at our file size.  Here you'll see it's 39,308 which means you're about 39 megabytes (this is our sample file).  It's not approaching that 60-70 megabyte area, so we shouldn't have any problems with speed in this particular file. But, if you start getting really large files, things are going to slow down a bit on you.
Let's see, if you can, you want to work in single-user mode. And of course, I'm sure you all know how to flip over into single-user mode.  So if you're working alone in the file, no point in leaving it in multi-user mode.  Things will work a little faster.  If your file starts getting too large…