Are you in charge of selecting the best version of QuickBooks or Enterprise for your company? Whether you're updating or a new user, here are our insights.
---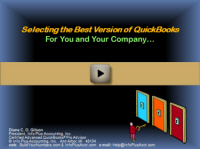 Are you the person in charge of selecting the best version of QuickBooks or Enterprise Solutions for your company? Do you need to update or upgrade? Or are you just getting started? When it's time to make the tough decisions that you'll be living with for 1, 2, or 3 years down the road, what information do you need, and what are your options?
If you had an experienced Certified and Advanced QuickBooks ProAdvisor by your side, what questions would you ask? And what questions would she ask you?
Join Diane Gilson as she highlights various QuickBooks packages and levels, notes general price ranges, discusses features that are of special interest in different versions, reveals the guarantees, and lists a variety of related, Intuit-endorsed products. She also discusses the option of additional plug-in software offerings specifically designed to meet other unique needs that you may face. Selecting the best version of QuickBooks becomes much easier when you can tap into the expertise of your "personal ProAdvisor & QuickBooks consultant"!
… OR …
Get THIS class PLUS
80 More Online Classes for only $197
Covering topics like:
Job-Costing, Construction Accounting, and Profit-Building

---
Preview of Selecting the Best Version of Quickbooks
What version of Quickbooks is best for you? Watch a snippet of Diane's video to see what you can learn with this tutorial.

After the video starts, click the 'box' icon
at the bottom right-hand corner of the video (to the right of the speaker icon).
Video Transcript at Bottom of Page
---
Selecting the Best Version Of QuickBooks (1100/Level 2)
Approximately 20 minutes:
Highlights From Selecting the Best Version of Quickbooks
What's available & differences between products
Intuit guarantees
Other Intuit-endorsed products designed to enhance your business results
Third-party add-ins and cautionary notes
---
Selecting the Best Version Of QuickBooks (1100/Level 2)
Diane Gilson: Good Day, this is Diane Gilson with Info Plus Accounting and I'd like to welcome you to today's session, 'Selecting the Best Version of QuickBooks'.
We're going to talk about what kinds of products are available out there, what are the differences between the different products and I'm going to throw in my own comments and opinions.  It seems to be a really popular topic when I go out and do live seminars.  Like at the International Builders Show, I get a lot of questions about "Which version should I get?"  "What are the differences?" and so on. We'll also briefly touch on some of the Intuit "add-ins" and some third-party "add-ins". Not specific ones but general concepts. Talk about what's out there and what you might want to be thinking about.
So, I'm going to go through what's available, and I'm going to throw in some comments as we move through this. The pricing that you'll see here (in the hand-out) is as of September 2010 for version 2010, as shown on the Intuit website. We are anticipating, within the next two weeks, [that] 2011 is going to be on the shelves.  They're just beginning to distribute to the ProAdvisors our versions. So 2011? I honestly haven't even been able to download mine. I saw it come in actually late last night, and I'm really anxious to take a look at it.  I've read a few things about what's coming, but I'm going to wait to report to you on that in maybe one of our live coaching sessions once it's actually out and I've had a chance to look at it myself.
So my comments will relate to 2010, and we'll take it from there. The online version, your pricing is right there, you get 30 days free, and then you can get a basic for a single user plus a free accountant edition at $9.95 a month, or you can go to the plus version at $35 a month. I'm not going to spend much time on this because it really is not recommended for job costing from my standpoint. It's fine for simpler companies, but as of right now, it's really not adequate for job costing purposes.
If you really want to get into an online hosted version (we talked about this in the earlier class), you can get into the regular desktop-style QuickBooks in an online environment by using a hosting service.  So if you're interested in that 'holler', we'll get you some information.
Simple Start.  I rounded these – it was $99.95. Most of these have 95 cents on the end, so I rounded them to the nearest dollar. So Simple Start is going to run $100.  You don't want to get into this; there's no point.  You can't do anything with job costing, and the people who are in these classes are here because they want to learn job costing applications.
QuickBooks Pro runs right now online for $160.  You can find it in other places 'on special' for less, so if you keep your eyes open, you can find it for that – for a single user. This package can handle all your job costing functions. We used this for years – and created very effective job costing – before the Premier Contractor's version became available and the Premier Manufacturing version became available. There are certain reports that aren't quite as easily accessible and we'll talk about Premier in a moment,… and there are some inventory limitations if you're a manufacturing company.  So for instance there are no 'assemblies' available, so it's not suitable for different manufacturing applications.  But in construction, this is a great value.
But you don't have all the bells and whistles, OK, and the cost of the software isn't all that much, so I would recommend – if you can handle the additional cost – to move up to the Premier level.  And here are the different industries that it covers [see screen]. I copied the additional features [for Premier] off of the web, and they're talking about here 'one-click business reports'.  So let me go over here, and I'll show you in QuickBooks.
If we go into reports (and I'm working in Enterprise right now, but the reports are going to be pretty much the same) to 'industry specific';  if we go look at contractor reports, there's a whole series of reports that are geared towards contractors.  Now some of these are available in Pro but a few of these are only available in Premier or Enterprise. So you'll see (because I'm in the Accountant's Edition, I get to use all of these), but if you pick up your package and install the Contractor Edition or the Manufacturing Edition, these will be the industry-specific reports that you see.  Of course, they've got professional services and retail and non-profit, so if you install the contractor's edition…