---
Could your job be described as "Consistently confronting chaos and clarifying confusion"?
Sound familiar?  If so, you're probably a company owner or manager!
---
Controls.  Variance reports.  Feedback loops.  Management by Exception.


***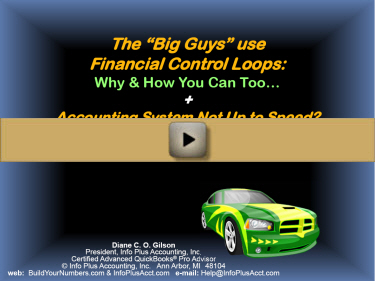 Can these 'best practice' business concepts actually put more money in your pocket?
In this short workshop (< 30 minutes), Diane will share how to use QuickBooks to create operating and financial control systems designed to skyrocket your company to the next level.  Learn how to use your accounting system to add focus, consistency, and inspiration to your organization!
Find out how "the big guys" use their tracking & control systems to create goals, improve communications, stay focused on results, and increase profitability.
The "Big Guys" use Financial Control Loops: Why They Do & How You Can Too…
Approximately 29 minutes:
The qualities of entrepreneurs and founders
The job of management
Creative Entrepreneur vs. managerial control
The 5 "C's"
Entrepreneurial talents and systems
A creative approach to control systems
Your challenge…
How the big guys do it!
Establishing a Control Loop in your business
Creating a management control system in QuickBooks
… OR … 
Get THIS class PLUS
80 More Online Classes for only $197
Covering topics like:
Job-Costing, Construction Accounting, and Profit-Building

---