If you're struggling to understand or measure your labor burden and its effect on profit, let BuildYourNumbers.com help you with our job cost and accounting tutorials.
---
Labor Burden & Profits: Connect the Dots!
Got employees? If so…
What's it cost to put them "into the field"?

What should you be charging

for their time?
Should you avoid overtime? Or embrace it?
What the heck is labor burden and how does it affect your

job costs

and

bottom line?
If you have employees and have to sign or authorize paychecks, you know that paydays and other labor-related costs account for a large amount of the cash flowing out of your business…
Direct labor employees should be producing income and bringing far more into the business than they cost, while sales and admin staff members support the front-line employees.
In short, every employee should be contributing more to the company than they cost!
But What, Exactly, Does Labor Burden Tell You About Your Employees' Cost?
I've worked with clients for many years to help them improve their businesses by cleaning up and understanding their numbers. However, unfortunately, I've found that too many businesses (and business owners) can't access reliable or accurate results regarding their employees' true hourly cost for "production" work.
In accounting lingo, that info is called…
"Fully-Burdened Labor Cost"


I.e., what it costs an employer for an employee to produce work for a specific period of time…
(…usually shown as a "per-hour" rate.)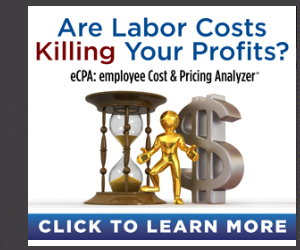 Click the image above to learn more about our Excel-based tool that will help you learn everything you need to know about your employee costs and billing rates…
Without that fully-burdened labor cost information, it's tough for business owners and estimators to make the right decisions about markup and pricing.
If markup and pricing is too high, there's a chance of losing jobs because they aren't competitive.
When markup and pricing are (more typically) too low, the bottom line suffers – and that's no fun for anyone!
So, this is the beginning of a series of blog posts designed to help you explore and discover ways to access and use labor burden information to improve profitability for your company…
In These Labor Burden Articles, You'll Find:
An example employee and how to compute the labor burden for that person.
How to use your fully-burdened labor cost to discover what you should charge for direct labor employees to meet your target profitability.
Why your job cost reports probably aren't right (and, without burden costs, could be downright misleading…).
How lost and/or wasted time can be measured, what it does to your bottom line, and what to do about it.
Ways to determine whether you're achieving your

desired ROI

(Return on Investment) for individual employees.
Considerations:  When to use employees?  When to outsource?
For business owners with employees, the labor-burden topic is likely of immediate financial concern.
(I've also found that most company owners find it to be interesting, multi-faceted, and, upon occasion, controversial…)
Click the image below to learn more about this Excel-based tool that will help you learn everything you need to know about your employee labor burden costs and billing rates…
---
Related Articles: Back to Part 6
---
Customer Praise For Diane Gilson, Info Plus Accounting, and BuildYourNumbers.com
⭐⭐⭐⭐⭐ From the Intuit FindAProAdvisor website:
"Diane's knowledge and experience made our changeover to QuickBooks Enterprise a much smoother transition than we had imagined. Our situation did not include project accounting but required strong accounting and knowledge when working with multi-currency. Diane was able to come up with creative solutions to various scenarios we run into. Diane is very knowledgeable, not just about QuickBooks, but with accounting principles, practices, and compliance. All of our conversion work was completed remotely and in such a professional and timely manner it was as if Diane was with us at our location. We recommend Diane's services with no hesitation, whatsoever."

See More Customer and Client Comments
---