---
Broken database links can cause problems with your QuickBooks data file(s)…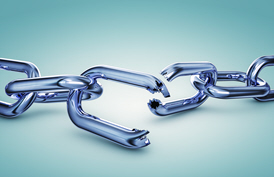 QuickBooks® Pro, Premier, and Enterprise Solutions desktop software programs are databases that could (potentially) include broken database links.
What and Why? The underlying software (database) for your company file includes your records and transaction fields that are "tied together" with various pointers and links.
How? Over time, as you post various transactions into your file, it's possible that some of the many database links and pointers will disconnect or "break."
When this happens, those broken database links mean that you may see some unusual results in your Quickbooks reports.
For example, you might encounter odd balances or results such as a Balance Sheet that doesn't balance. Or you may notice that the Net Income shown on your Balance Sheet as of a specific date doesn't agree with the Net income for the same time period) on your Profit & Loss report.
Re-sort your Lists
It's convenient to manually move your various List elements into different positions within your Lists in your Quickbooks data file using the mouse, right? (Lots of people do this!)
But if you've frequently reorganized your Lists in this way, some of the relationship pointers may have become "confused" (i.e., you've created broken database links).
If you notice unexpected results in your reports,…
Re-sorting your QuickBooks Lists may help overcome broken database links. Here's how:
Rather than opening and re-sorting each individual List, you can perform a single, simultaneous re-sort for the following four QuickBooks Lists in your company data file:
Customer:Job
Vendor
Employee, and
Other Name Lists (vs. ). 
If you'd like to do that, here are the steps to follow:
Open a blank check
Go to the "Pay to the Order of" field
Rather than typing in a name, hold down the Ctrl key+L.
A comprehensive Name List will appear.
Re-sort the List by going to View > Re-sort List (see the screenshot below).
For Lists not shown above – such as Memorized Transactions or Memorized Reports or your Chart of Accounts, or for any (specific) QuickBooks List – you can re-sort those individual database Lists as follows:
Highlight an entry within the List, then
Click on View > Re-sort List.
QuickBooks will ask if you're sure you want to return the List to its original order. Select OK.
(Note: You MIGHT need to click on the diamond icon at the top of the List before QuickBooks allows you to proceed.)

…




QuickTips From Diane…
If the order of a specific List is important to you, print a List Report before you run the re-sort.  (The List Report can be dramatically shorter than printing from the actual List in your Quickbooks data file.) 
Option #1: If the re-sort solves the underlying problem, but you want your List back in the previous order, you will be able to refer to your printout as you manually drag and drop your elements into the correct order. 
Option #2 (preferred): Devise a numbering or lettering system for the names within the List that will force it, when re-sorted, to display in the order you desire.
Related QuickBooks Data file Articles: Part 1 | Part 2 | Part 3
---
Customer Praise For Diane Gilson, Info Plus Accounting, and BuildYourNumbers.com
From the Intuit FindAProAdvisor website – ⭐⭐⭐⭐⭐
"Very happy with the entire experience. Very professional and solved our issue in a timely manner."

See More Customer and Client Comments
---
At Info Plus, we offer a wide range of affordable workshops and training specific to job costing using software such as QuickBooks® desktop and Excel. We love teaching and coaching, so if you're ready to learn, we're here for you.
…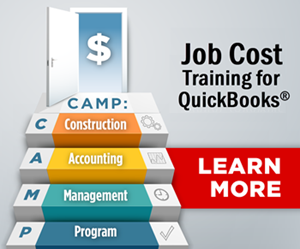 You can sign up for any of our workshops or training tutorials and learn what you need to know 24/7. If you'd like to learn more about the training, please send an email or call. We'll be happy to explain how it works so you can decide if it would be a good fit for you and your business.
We look forward to hearing from you and learning more about how we can help…