---
The QuickBooks Data File Verification Feature
Re-sorting Your QuickBooks List
The first step in repairing QuickBooks data links in your QuickBooks Desktop or Enterprise files is to re-sort your QuickBooks list. Learn how here.
Once you have re-sorted your QuickBooks list, if you are still suffering from broken database links in your QuickBooks data file, you'll want to verify your data.
Verify Your QuickBooks Data
The QuickBooks data file verification process is designed to detect problems with your data and related links.
Best Practices TIP from Diane: You should also verify the integrity of your data file as part of your month-end closing process.
---
How To Verify QuickBooks Data
To use the QuickBooks verification feature, follow these steps:
Before verifying, QuickBooks will need to close all open reports, windows, and Navigators.
So, it's a good idea to jump in and do it before you start the process.
Why? Although you can verify in multi-user mode, other users won't be able to use the file while you are verifying. Also, QuickBooks performs a more limited verification than is possible in single-user mode.
Click on File on the taskbar.

Select Utilities.

Select Verify Data.
Let the process finish. DON'T INTERRUPT the QuickBooks data verification process.
You will know the QuickBooks Verify Data process is done when you see one of the following messages:

QuickBooks detected no problems with your data
(see the *Quick Tip from Diane at the end of this article)
OR:
Warning: Data has lost integrity.
If you see this notice, close all windows and choose Utilities and Rebuild Data from the File menu.
(If you see the "lost integrity" message, you will want to use the Rebuild command (as indicated above) in your QuickBooks data file. See below.)
Rebuild QuickBooks Data
If 1. resorting your QuickBooks list and 2. verifying your QuickBooks Data does not work, it's now time to rebuild your QuickBooks Data file.
How to Rebuild Data in QuickBooks
When you choose the Rebuild Data command (see screenshot), QuickBooks requires you to back up your data file.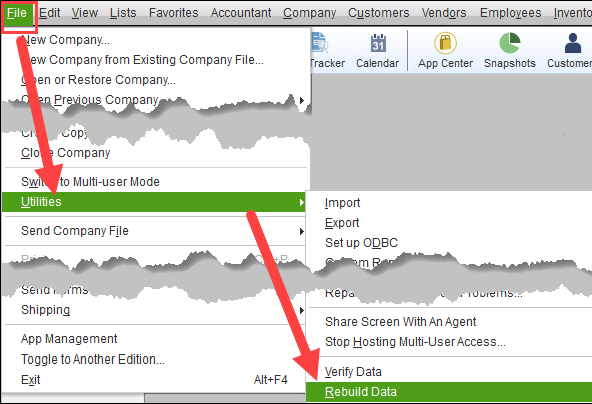 (You may want to name this backup "BAD and REBUILD" so that it's readily identifiable.)
QuickBooks will rebuild your data file. If your data file is quite large, this may take a while – so plan to work on something else for a bit.
NOTE: I've noticed that the file size is often smaller after the rebuild. Thus, it appears that the process also re-organizes the data in a more efficient manner.
The rebuild process should (but isn't guaranteed to) re-establish all of the links and pointers.
When the rebuild is complete, QuickBooks will normally tell you that the rebuild was successful.
But it does NOT tell you that your data has been verified and that no problems exist, so you should run the Verify Data utility again.
If you see the "no problems" message, you should be "good to go".
If you see the "lost integrity" message, rebuild it a second time and re-verify.
If you still see the "lost integrity" message after the second rebuild, you may have a corrupted data file.
(Please contact your ProAdvisor or Intuit tech support as quickly as possible.)
*QuickTip From Diane
You may want to periodically run a rebuild on your company file – even when you get the "no problems" message during the verification process.
Why? I've seen situations where the rebuild process has fixed one or more transactions that weren't detected as problems by the Quickbooks data file verification process.
Related QuickBooks Data File Articles:
Part 1: Re-sorting Your QuickBooks List
Part 2 (this article): Verify and Rebuild QuickBooks Data Files
Part 3: Locating and repairing damaged data and transactions in your QuickBooks data file
---
Customer Praise For Diane Gilson, Info Plus Accounting, and BuildYourNumbers.com
⭐⭐⭐⭐⭐ From the Intuit FindAProAdvisor website:
"Diane is very knowledgeable and easy to work with. I am extremely satisfied with all of the products and services I've received from her and I highly recommend her to any other small construction businesses. She has helped me better understand how to utilize and navigate QuickBooks."

See More Customer and Client Comments
---
At Info Plus, we offer a wide range of affordable workshops and training specific to job costing using software such as QuickBooks® desktop and Excel. We love teaching and coaching, so if you're ready to learn, we're here for you.
…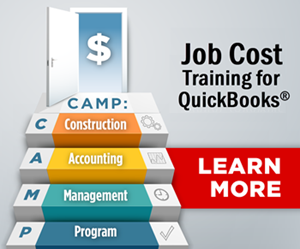 You can sign up for any of our workshops or training tutorials and learn what you need to know 24/7. If you'd like to learn more about the training, please send an email or call. We'll be happy to explain how it works so you can decide if it would be a good fit for you and your business.
We look forward to hearing from you and learning more about how we can help…