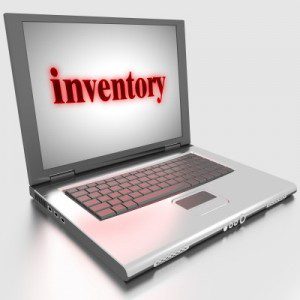 Learn how inventory software can help your small business save time and money over the long term.
---
Small-business owners have to keep track of their inventory just like all other businesses, but with fewer resources available to them. You could try to track inventory by keeping a list in a notebook or on a spreadsheet, but you really should use inventory software designed for your small business.
Why?  If inventory is a significant part of your business, and you want your business to thrive and grow, it's critical to stay on top of your current inventory levels, shipments, and backorders, what's 'spoken for' on sales orders, what's been purchased or is awaiting arrival, and what still needs to be ordered. Through years of experience setting up accounting systems for small businesses, I've seen time and again the tangible benefits of an efficient and reliable inventory software program.
Top Five Reasons To Use Inventory Software for Your Small Business
As a small-business owner, your real passion lies in the products and services your business provides, not in accounting systems. But if inventory is an integral part of your business, inventory management then becomes essential to its success. Small business inventory software can free you from the bulk of work required to keep track of your inventory so that you can focus on the business of selling it!
The top five reasons I find inventory accounting software useful for small businesses are:
It handles the math and day-to-day 'behind-the-scenes' accounting entries.  This frees you from many of the time-consuming tasks associated with 'home-grown' tracking systems.  That means that you have more time to focus on your business and its growth.
It allows you to create standard 'groups' and 'assemblies' – so selling a kit or 'building' an assembly becomes a more automated part of your business.
You'll be able to easily monitor inventory levels and usage.  That means you'll be able to avoid over-purchasing, or will know when you need to purchase more inventory.  (You don't want to tie money up in excess inventory, or risk not having that inventory on hand when you need it for a project, or when a customer is ready to buy!)
Utilizing inventory accounting systems for monitoring and control purposes helps you maximize possible profits from your inventory.
An automated

inventory software system can grow with you

– and help you grow your business to its fullest potential.
Briefly:  How QuickBooks Inventory Software Works
When you purchase an inventory item, your inventory accounting software increases your inventory quantity and dollars for that item. Your purchase increases an asset account (inventory).
Later, when you sell the item and record the sale, the software reduces your inventory and places the initial cost into your Cost of Goods sold account. Additionally, your QuickBooks or Enterprise-based inventory software program will also record income and, if the sale was invoiced, will track the related accounts receivable.
In short, it's an integrated system that automatically takes care of the cycle of purchase orders, receipts of ordered inventory, and related bills, moves inventory into assemblies or groups if needed, creates packing slips, and handles warehouse and shipping management.  The cycle ends by moving the cost of the inventory items into your cost of goods sold account.  Your inventory software program will save time and manual entries – thereby increasing your accuracy, efficiency, and control.
Just Starting or Want to Know More About How To Use QuickBooks or Inventory Accounting Software?
Don't worry. We can teach you how to use inventory accounting software to its fullest potential. Our specialty is QuickBooks and Intuit Enterprise Solutions.  We also help clients implement the Enterprise 'Advanced Inventory' plug-in which offers even more advanced features such as inventory-by-site designations, serial or lot number tracking, and FIFO costing.
These affordable software programs offer great flexibility for different types of businesses.  We believe in teaching mid-sized and small-business owners like you how to utilize these programs to increase profitability. BuildYourNumbers.com offers one-to-one training and coaching as well as a training for QuickBooks subscription series for both beginners and advanced users. We're here to help your business succeed! If you have any questions, please contact us today.
---
Customer Praise For Diane Gilson, Info Plus Accounting, and BuildYourNumbers.com
⭐⭐⭐⭐⭐ From the Intuit FindAProAdvisor website:
"Diane and her team have been invaluable to our growing business! We needed to capture specific job costing, along with adding an in depth massive inventory program switching from QBO back to QBE- Diane was so willing to work with us!! She is patient and super knowledgeable in QuickBooks and knows all the tips and tricks to make your accounting more efficient and accurate! Love working with her and her team!"

See More Customer and Client Comments
---