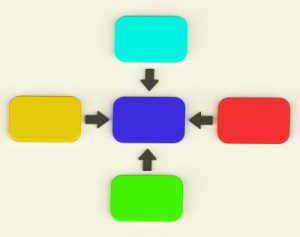 As a small or mid-sized business you only need one cost-effective, integrated accounting system to effectively manage your financial operations…
---
Have you made the jump to manage your own accounting? If so, have you found yourself lost in a sea of financial software?
In fact, you really don't need those five or six manual systems or programs you may currently be using to take care of your accounting needs. All you need is one integrated accounting system.
One of the best integrated accounting systems available for small businesses is QuickBooks (or, if you're a mid -sized business, you should be looking at Intuit Enterprise Solutions [frequently referred to as "QuickBooks on steroids"]).
What Is an Integrated Accounting System?
An integrated accounting system can perform the wide variety of functions you'll need in order to:
Estimate, report on, and monitor all of your job costs at summary or detailed levels.
Track and convert employee time into job-costed payroll.
Reduce data entry time.  Intuit's philosophy is NED2 (Never Enter Data Twice!).
For example, with QuickBooks and Enterprise desktop versions you can:

Convert Estimates into Sales orders and/or copy Items into Purchase Orders.
Convert Estimates into Invoices.
Copy Time and/or Costs into Invoices.
Copy Purchase Order details straight into Bills.
And many more…

Handle inventory purchases, assemblies, and sales.
Easily send information to customers and vendors (e.g., emails, statements, invoices, marketing letters).
'Slice and dice' your information in a variety of ways. Use advanced tracking features to see more and better information about what is, and isn't, working in your business
Instead of simultaneously attempting to perform all of these different tasks using multiple programs, just use QuickBooks or Enterprise Solutions. You'll be able to integrate all of this information into one easy-to-learn accounting software system.
In short, QuickBooks and Enterprise can do the heavy lifting for you.

Isn't It Risky to Consolidate My Current Packages
into a Single Integrated Accounting System?
Yes, I understand that it can feel like a risk to entrust your data to a single accounting software program.
But based on more than 35 years of accounting experience, and more than 20 years of helping remodelers, developers, and custom-home builders structure and set up their accounting systems, I'm able to assure you that QuickBooks desktop is designed to be a trustworthy, integrated accounting system*.
You can use it to accurately retain the information that you need to access regarding the various activities and components of your business.
*Of course, as with any software system, you will want to create standard safeguards such as user passwords and regular onsite and offsite backups. 
An Integrated Accounting System vs.
Disconnected Solutions – Which is the Greater Risk?
It is an educated decision to assign storage of this critical information to trustworthy accounting software that's been created for just that purpose.
In fact, not taking advantage of such well-designed and efficient software would likely be a greater risk to your business.
Why?  Because maintaining several non-integrated systems:
Requires time-consuming duplication of effort.

Typically yields results that are not useful or accurate

.
Ready To Turn In Your Multiple Stand-Alone Packages For a Single Integrated Accounting System?
We understand how tough it can be to run a small business. You need to be cost-conscious, practical, and realistic with every decision you make.
You can now choose to implement one reasonably-priced, integrated accounting system into your business. Then you can structure it to fit your specific needs. You'll be able to keep your fingers on the pulse of, and control, your operations far more easily than you may imagine!

You want your business to grow to its fullest potential. So do we! 
To make that happen, you'll need to be able to plan, measure, monitor, and modify your operations as you grow. QuickBooks is the perfect tool to help you do that!
So that you can learn how to use both the flexibility and integrated features of QuickBooks, I have created a QuickBooks job-cost training series for you. I've also created a free series of videos that show you how to avoid the most common QuickBooks user errors.
Info Plus Accounting is here to help. To learn more about QuickBooks (or Enterprise), the ultimate integrated accounting system, and/or how to use the program and customize it to fit your own business, please contact us at 734-544-7620 (9-5 Eastern, M-F).
---
 Bonus: Wondering about your Gross Profit numbers? Here's a useful one-sheet Excel calculator…

---
Customer Praise For Diane Gilson, Info Plus Accounting, and BuildYourNumbers.com
⭐⭐⭐⭐⭐ From the Intuit FindAProAdvisor website:
"Diane and her office staff are very knowledgeable. They've been a great help finding the right QuickBooks for us, the install and bookkeeping. Always available quickly and helpful."
See More Customer and Client Comments
---