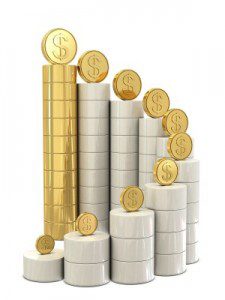 Learn how to implement a management accounting system – so you can make informed business decisions each day!
---
Did you know there are different types of accountants and accounting viewpoints? Many business owners don't.
There are a handful of different kinds of accounting systems, but the two main kinds are management accounting and financial accounting. Choosing which accounting system to focus on can be confusing, and the different viewpoints can present drastically different conclusions.
How Can Your Business Benefit From a Management Accounting System?
The goal of a management accounting system is to obtain information and create reports that are useful for managers – known as managerial accounting reports – so they are better equipped to make informed business decisions.
In other words, a management accounting system can help your business become more successful on a day-to-day basis.
A management accounting system is:
…Designed to provide timely, useful information to company owners and managers within an organization.
…Normally far more detailed, and used by management frequently (rather than the periodic use by banks or tax preparers).
…Typically more 'current and forward-looking', vs. the primarily historical view required for tax preparation or standard financial statements for banking or audit.
…Structured with management decision-making needs in mind. Management accounting systems are usually based on specific internal requests or analytical needs.  As a result, reporting layouts often do not strictly line up with the generally accepted accounting principles that public accountants are required to follow.
What About a Financial Accounting System?
The goal of a financial accounting system is to obtain and analyze information for big-picture aspects of a business.
A financial accounting system:
Has a design focus based on the need to prepare internal and external financial statements.  Examples include statements for lenders, vendors, shareholders, and tax returns.
Is normally structured to incorporate GAAP (Generally Accepted Accounting Principles) into the results.
Provides reports that can be used in big-picture and long-term financial decisions (e.g., employee benefits planning, trends analysis, marketing, sales, and investment decisions, mergers, and acquisitions, etc.), rather than day-to-day managerial accounting decisions.
The Key To Remember Is…
…Each accounting system may involve a different type of thinking or a different set of calculations. So, if your financial accountant says your cost for a certain element is X, your management accountant may say that the real cost is actually Y. Keep in mind that you should check to see why they're coming up with different results so you can be clear on the details that you need to know for your financial decisions.
The great thing about QuickBooks is that, if you set up your structure properly, you can have a system that provides BOTH a management accounting system AND a financial accounting system!
So, when you're choosing which accounting orientation you should adopt, remember that a management accounting system is the one that will help you run your business more smoothly each day. And if your system is properly structured, third parties will be able to see "standard" financial reports, and your professional accountant will be able to easily extract the information needed for tax preparation or formal financial statements.
To Get Started Setting Up a Management Accounting System That Also Includes a Financial Accounting System…
You CAN have it all! I've been teaching business owners how to set up combined management accounting systems + financial accounting systems for years and can teach you through our workshops and training how to set up your own. Unlike many other accountants, I don't believe that certain topics are too complicated to teach to non-accountants. I truly believe you can learn how to set up and run your own management accounting system by understanding the 'why's' behind the system.
If you'd like to access a full series of in-depth training tutorials for QuickBooks, check out our affordable QuickBooks job-cost accounting training series.  (Or, if you'd like individual coaching, or have any questions, please give us a call or send me an e-mail today).
---
Customer Praise For Diane Gilson, Info Plus Accounting, and BuildYourNumbers.com
⭐⭐⭐⭐⭐ From the Intuit FindAProAdvisor website:
"We have worked with Diane since 2007 when we installed QuickBooks as our accounting system. She has walked us through set-up, taught us how to use QB and does monthly followup to make sure everything is going as it should. We are a manufacturing company with inventory and we also do our own payroll. We have given Diane numerous problems to solve and she has figured them out in no time. She is very personable, reliable and easy to work with and I look forward to working with her every month."

See More Customer and Client Comments
---